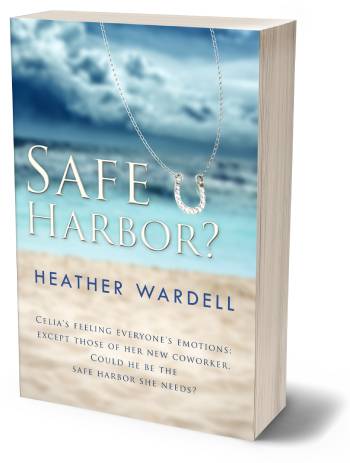 Available in:

ebook and paperback
Amazon
Apple
Barnes & Noble
Google Play
Kobo
Smashwords
Celia's always thought she was just emotional. But when she witnesses a near-murder and finds herself feeling everything the victim feels, she wonders if she's losing her mind.
There's only one place she feels peaceful: near her new coworker. He's just been left at the altar and he should be devastated but instead he's quiet. Calm.
Too calm? Or could he be the safe harbor she desperately needs?
The sequel to "All at Sea" and "Plan Overboard"!
What Readers Are Saying:
"I love this Author's writing. Her characters are perfectly believable, because they aren't perfect. Each character is the hero of their own story, and whether you loved them or hated them when you encountered them in another story, you find yourself pulling for them in their own story. I was prepared to feel pretty lukewarm for Celia, and found myself liking her a lot!"
(Amazon reviewer Stefaffi)
"Heather's books all have a major theme — in this case Celia needs a safe harbor as she deals with the empathy that she feels and cannot control. This book did a wonderful job of showing how Celia tries to deal with that while newly married and dealing with Owen's (wonderful) but messy family history."
(Amazon reviewer BethanyReads)
"I enjoyed getting to see and learn more about Owen as a character and why he was "closed off". Celia was a very likable character. I was rooting for her through out the entire story. All at Sea, Plan Overboard, and Safe Harbor? were some of my favorites in the Toronto Series."
(Amazon reviewer Heather D. Hahn)