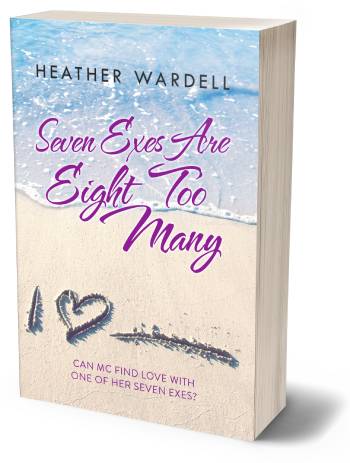 Available in:

ebook and paperback
Amazon
Apple
Barnes & Noble
Google Play
Kobo
Smashwords
The fiercely private Madeleine-Cora Spencer is the last person who should be on a reality TV show, but when she's shunned by a friend's new wife because "you can't trust desperate single women" her pain and humiliation drive her straight to the "Find Your Prince" dating show's web site.
Armed with date-appropriate clothes and a detailed game plan she arrives to meet her potential loves, only to be dumped… on a remote island with seven ex-boyfriends.
Seven exes! Could this be any worse?
What Readers Are Saying:
"This book will make a great beach read, and you'll certainly appreciate being able to go inside and have a shower and a meal after you finish. Once you stop laughing, of course."
(Books Etc.)
"Seven Exes Are Eight Too Many is a great little read if you love funny books, or reality TV set books, or just books in general, I really, really enjoyed it."
(The Book Geek)
"From the first page, the book hooks its readers in and makes it impossible to stop reading. It does this with strong and funny dialogue, a humorous plot and realistic and likable characters."
(Danielle G. of The Romance Reviews)