The tenth book in the Toronto Collection – "Good to Myself"! 🙂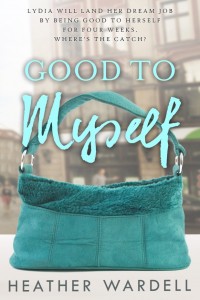 Internet columnist Lydia Grange is on the brink of the promotion she's wanted for two years. As lead columnist of the Toronto Times' women's issue site, she'll have the fame she longs for, the money to fuel her shopping obsession, and all the free shoes she can wear. Only one obstacle remains: beating her coworkers (Sasha the perfect mother and Patricia the bargain-obsessed senior) in a competition. All three must be 'good to themselves' for four weeks and teach their readers to do the same, and at the end of the time their sexy boss Felix will pick the winner.
Lydia's certain she will be that winner, and not just because she knows Felix wants her on an unprofessional level. She's never anything but good to herself, so how could she not win? Fancy drinks with extra whipped cream, the cheesecake she adores, the exquisite but pricey purse she's been craving? With the help of her nice-guy buddy and coworker Percy, she'll just indulge herself even more and make sure her fans do the same. In a month both the job and her long-desired fling with Felix will be hers.
It'll be the easiest four weeks of her life.
Unless it turns out there's more to self-care than sex and shopping and sugar.
My inspiration for this one was my own need to take better care of myself. This is still something I'm working on (she says, having had corn on the cob and crackers for lunch due to not being able to find anything else!) and it's so important.
I wanted to play with the contrast between 'whipped cream and cheesecake and shopping' and actual true self-care. The first feels good, briefly, and often actually better than real self-care does at the time, but in the end you often end up regretting it.
I wanted to see whether Lydia would regret it.
A few other interesting things about "Good to Myself" (code name Gemstone):
1. "Good to Myself" and "Pink is a Four-Letter Word" show some events from two different viewpoints. This is the first time I'd done this and it's immensely challenging! I've now also had to do it with the Seven Exes series books and with the "All At Sea"/"Plan Overboard"/"Safe Harbor?" mini-series, and it's still challenging to make sure things align without being overly repetitive.
2. I want the cover-photo purse badly. It's adorable! When I found it, I knew it was perfect for the cover.
3. When you read the part near the end that refers to a "Lexi Nails" mailing, you should know it's based on real life! My 'I'll send you a free sticker' giveaway somehow got posted to a bunch of freebie sites and I had about 250 signed sticker requests before I shut it down. I did send them out but it was a ton of work. 🙂
4. This is my first book with a dog! Paddington the golden retriever is based on my parents' goldens, and I love him. 🙂
Next up, "Pink is a Four-Letter Word"! Thanks for reading the "Good to Myself" spotlight. 🙂