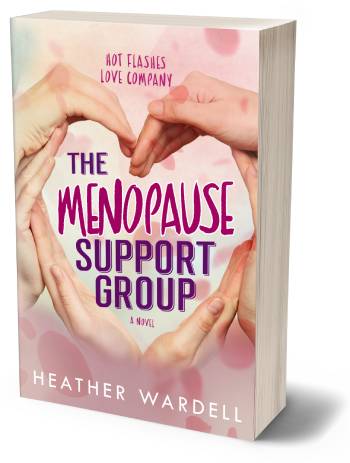 Available in:

ebook and paperback
Amazon
Apple
Barnes & Noble
Google Play
Kobo
Smashwords
Three women, one menopause support group, and a whole lot of hot flashes.
Emily's perfect plan for becoming a mommy in her twenties has just been shattered by a cancer-removing hysterectomy, and her anger is all-consuming.
Michelle's been laser-focused on getting a promotion… until early menopause (at thirty-nine??) hit her hard last year. Now that she can't have a baby, she's obsessed with them. And also with getting that promotion.
Sixty-four-years-young Brenda takes care of everyone, whether they want her to or not. She's actually finished with menopause, but she's faking symptoms so she won't lose the group and the opportunities for "helping" others it provides.
The three of them and their fellow group members work through career crises, marriage disasters, and the world's worst birthday celebration as they learn together what it means to be a woman in menopause and beyond.
What Readers Are Saying:
"There are plenty of feel good moments, cringe-inducing scenes and an overall sense of quirkiness yet bonding that we get from each of the characters. Another good one from Heather Wardell!"
(Chick Lit Plus)
"I loved it! Great story and very entertaining, funny and emotional. I didn't want to put it down. You become invested in all three main characters. I love that the narrative of the book goes back and forth between the three main characters point of view, it helps you relate and really get to know each."
(Brenda B., Goodreads)
"If you're going through menopause (or even if you're not), this is a must-read for you! I could identify with each of the main characters, but Brenda's story was very relatable. As always, Heather Wardell does not disappoint! I have read all of her books and get totally wrapped up in each and every one."
(Susan, Goodreads)