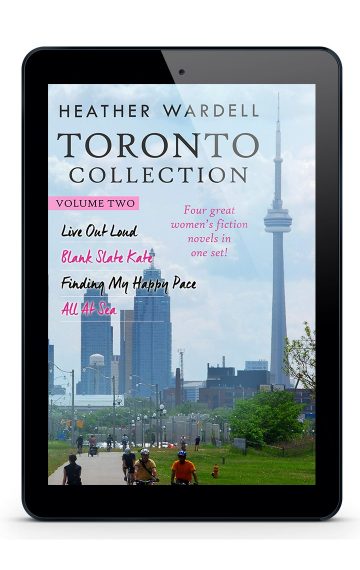 Publisher:

Heather Wardell

Available in:

ebook only
Amazon
Apple
Barnes & Noble
Google Play
Kobo
Smashwords
The sixth, seventh, eighth, and ninth books of Heather Wardell's "Toronto Collection" in one!
The "Toronto Collection" is a set of loosely connected novels. While most of the books are not sequels, your favorite characters will reappear across the books in the collection, letting you follow their lives after their original book ends. Want stories of real women taking control of their lives? These are the books for you, and here's a collection of books 6 through 9 at a terrific price!
"Live Out Loud": Songwriter Amy wants to honor her late best friend by starting the support center for teenage girls they'd planned when they were just girls themselves. When her song becomes an internet sensation she sees how to get the money she needs, but soon realizes she adores her new pop star career. She must choose: create the center she needed herself as a teen or truly become Misty Will, pop princess.
"Blank Slate Kate": Waking up with a strange man is scary. Realizing you lost fifteen years of your life overnight? That's terrifying. With her memories from seventeen to thirty-two gone, Kate has no idea who she is and where she belongs. As she begins to fall for the man who found her, she wonders if she forgot those years for a reason. Should she keep trying to retrieve her original self, or start a new life? 
"Finding My Happy Pace": If thirty-year-old Megan were any more of a doormat, she'd have footprints on her back. She takes up running to strengthen her body, but marathon training with cute but heartbroken coach Andrew strengthens her assertiveness too. When her best friend's demands threaten her race Megan must decide: cave in as she always has before or stick to her new-found 'happy pace' in running and life.
"All At Sea": Three months after they met, Melissa will marry Owen on his family's annual cruise. He's a great catch, though, so although they're moving fast she's sure they'll be fine. But when he proves to be a gambler and deserts her for the onboard casino, she wonders if she really knows him and if their marriage will meet her needs. Melissa must decide: stay with Owen or jump ship.